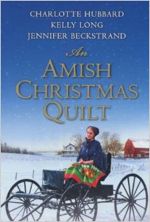 An Amish Christmas Quilt
(October 2014)
|
Publisher: Kensington
|
ISBN: 978-1617735547
A Willow Ridge Christmas Pageant by Charlotte Hubbard
Seth Brenneman didn't expect his holiday would include rescuing pregnant young Mary Kauffman and her two children ... or having unexpected feelings for the still-grieving widow. But when they must play the leads in an impromptu live Nativity pageant to help his Amish community, will their roles reveal their hearts -- and work a miracle for a lifetime?
A Christmas On Ice Mountain by Kelly Long
Matthew Beider and Laurel Lapp's secret wish to marry is a gift their feuding fathers definitely won't accept. And trying to settle their dats' long-standing quarrel is making their holiday anything but merry. Can rediscovering the joys and friendships of Christmas past finally turn their families' futures bright?
A Perfect Amish Christmas by Jennifer Beckstrand
Anna and Felty Helmuth's grandson, Gideon, plans to spend Christmas on a beach in sunny Mexico. But Anna is quite sure he'd rather be with them, snowshoeing, ice fishing -- falling in love. And she knows the perfect girl. Not only is Dottie Schrock an excellent quilter and baker, she's having a party. There's just one complication -- Gideon is not invited. Dottie has her reasons, but Anna trusts that the spirit of Christmas -- and true love -- will change her mind, and her future ...

latest
fiction book trailer
christian fiction
authors