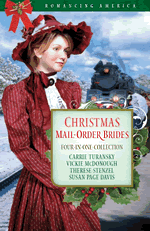 Christmas Mail-Order Brides (4-in-1)
(September 2010)
Genres:
Christmas
,
Historical
,
Romance
|
Publisher: Barbour Books
|
ISBN: 978-1602609693
When marriage arrives by mail-order—and just in time for Christmas—the results are unpredictable. Annika's fiancé is missing, Joliee is forced to marry another groom, Elizabeth takes along a trunk of secrets, and Amelia faces a disappointed prospective husband. Can true love grow after an awkward start?
latest
fiction book trailer
christian fiction
authors