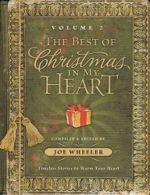 The Best of Christmas in my Heart Volume 2
(October 2008)
Genres:
Christmas
,
Contemporary
,
Historical
|
Publisher: Howard Books
|
ISBN: 978-1451636116
These time-tested stories are sure to warm the heart of readers of all ages. The Best of Christmas in My Heart, Volume 2 is the perfect gift for family, friends, and loved ones, distilling the peace, hope, and love of Christmas into timeless tales that will touch readers' hearts.
This collection awakens wonderful nostalgia in anyone who has ever sat at the feet of a parent or grandparent and been swept up in Christmas stories of old. Now readers can relive that cheerful experience simply with this beautiful holiday treasure.
latest
fiction book trailer
christian fiction
authors