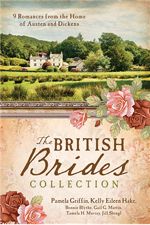 The British Brides Collection
(March 2014)
Genres:
Historical
,
Romance
|
Publisher: Barbour Books
|
ISBN: 978-1628361681
9 Romances by Kelly Eileen Hake,Tamela Hancock Murray, Jill Stengl, Bonnie Blythe, Pamela Griffin and Gail Gaymer Martin.
Explore English gardens, London ballrooms, and Scottish castles as nine brides-to-be experience all the legendary drama and epic romance that British literature is known for. Each of the nine short stories will sweep you away to a different era of time spanning over 500 years of history in the British Isles.
latest
fiction book trailer
christian fiction
authors