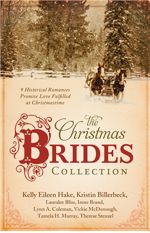 The Christmas Brides Collection
(September 2014)
Genres:
Christmas
,
Historical
,
Romance
|
Publisher: Barbour Books
|
ISBN: 978-1630581541
9 historical romances by by Kelly Eileen Hake, Kristin Billerbeck, Lauralee Bliss, Irene B. Brand, Lynn A. Coleman, Vickie McDonough, Tamela Hancock Murray, and Therese Stenzel.
Nine brides-to-be have wedding dreams overshadowed by doubts and troubles. Meet an English immigrant wanting to return home. A ranchero's daughter being forced to marry a despicable man. A soldier's fiancée facing the realities of war. An optimist who believed a lie. A snowbound woman near death. A do-gooder fighting for orphans. A bride sought only for an inheritance. An orphan protecting her father's land. A motherless daughter wishing for yesterday. Will love shine its light of hope and truth into each life?
latest
fiction book trailer
christian fiction
authors