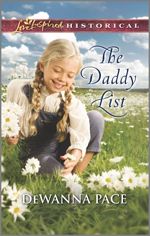 The Daddy List (Love Inspired Historical)
(March 2015)
Genres:
Historical
,
Romance
|
Publisher: Love Inspired Historical
|
ISBN: 978-0373283057
Discovering her daughter is holding bank patrons hostage to interview daddy candidates sends widow Daisy Trumbo running to intervene. But when real bank robbers take advantage of the fake stickup, the hero of the day is Bass Parker — the man Daisy blames for her husband's death. Yet duty compels her to care for him as he recovers from his injuries. Bass is determined to make amends to the widow and child of the fallen soldier who took his place on the battlefield. But he slowly finds himself feeling more than obligation to this independent woman and her spirited little girl. Their happiness hinges on Daisy's forgiveness, but can she let go of the past?
latest
fiction book trailer
christian fiction
authors