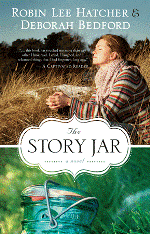 The Story Jar
(May 2011)
|
Publisher: Hendrickson Publishers; Reprint edition
|
ISBN: 978-1598566659
Two bestselling novelists combine their creativity and skill for two stories threaded together by the concept of a "story jar," a place for memories and mementoes that honor and encourage mothers. In Bedford's
The Hair Ribbons
, a mother's love and strength is passed down to a daughter facing the same disease that took her mother--breast cancer. In Hatcher's
Heart Rings
, a mother and daughter learn to reach across the generation gap and ultimately accept each other with love.
The Story Jar
includes letters and anecdotes about motherhood from other authors, including Jerry Jenkins, Francine Rivers, Lori Copeland, and Debbie Macomber.
About the Authors:
Robin Lee Hatcher
earned the Romantic Times' Career Achievement Award in both 1994 and 1999. She is the winner of the 2000 Christy Award in the Romance category, a 7-time finalist and 2-time recipient of Romance Writers of America (RWA)'s RITA Award, and the 2001 winner of RWA's Lifetime Achievement Award.
Deborah Bedford
is president and co-founder of the
Jackson Hole Writers Conference
. Her books have appeared on the USA Today bestseller list, the CBA bestseller list, and have been chosen as a Doubleday Book of the Month Alternate Selection, in addition to earning numerous other awards.
latest
fiction book trailer
christian fiction
authors