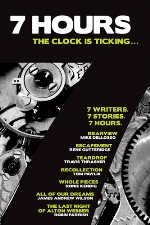 7 Hours: The Final Question
(June 2012)
The ambitious new project
7 Hours
combines the talents of seven different authors—from the worlds of suspense and speculative fiction—to grapple with one epic question.
As a way to explore the growing possibilities of fiction in the eBook age, a new digital project called
7 Hours
(Tyndale House) calls on seven unique voices in Christian fiction to struggle with the same question. The resulting novellas—about 25,000 words each—were first released separately in May. The omnibus eBook, with all seven tales, is available in July.
The seven authors—Mike Dellosso, Rene Gutteridge, Ronie Kendig, Travis Thrasher, Robin Parrish, Tom Pawlik, and James Andrew Wilson—each crafted a story around a central premise: What if, minutes before your death, you were given the gift of seven more hours, either now or in your past? Would you use that time to set your affairs in order, or would you relive precious memories, and perhaps, try to change your future?
The idea for
7 Hours
started with James Andrew Wilson. "I was frustrated that I had all these great novels I wanted to read, but not enough time to read them," he shares. "I thought, wouldn't that be cool if my favorite writers came together and wrote shorter stories?"
He also considered the differences between TV shows and movies. "You still have a complete plot, an entire story, but it's only 45 minutes as opposed to two hours or more. Why couldn't we do that with fiction as well?"
Initializing
James approached Travis Thrasher about the idea, and after the two hashed out the premise, James began contacting other authors. "Everyone I approached seemed to really love the idea."
Robin Parrish describes his reaction: "I think it was something along the lines of, 'Holy moley, I just have to be a part of this!' I thought it was ingenious, and my mind was instantly spinning in a dozen different directions, sifting through the endless potential of what could be done with this premise."
"We wanted each story to be unique to the author," James says, "in style, genre, and content. That's part of the fun of this whole project; it's like a platter with seven different types of food. It was fun discussing this as a team and brainstorming ideas together. Once the stories were complete, our editors at Tyndale helped us tune things a little to make them feel consistent with each other."
Individuality
Travis Thrasher explains the differences between the novellas, "Each author took the premise and delivered a story in the style and tone they're most familiar with. Some are more light-hearted. Some are action-packed. With mine, it combines a love story with a darker and twisted edge."
"My character doesn't remember what he's supposed to do with his seven hours," Tom Pawlik shares, "so the reader solves the mystery along with the main character."
James adds, "For my main character, the offer of seven hours wasn't so much about what he would do with those hours, but rather what he was unable to do with his whole life. His dreams had been torn from him in a way that no amount of extra time could fix."
Inspiration
Mike Dellosso's battle with cancer impacted his story. "I'm just tired of living with regrets," he shares. "I want to look forward, not backward, and take life one day at a time moving onward."
"Mattie has been with me for awhile," Rene Gutteridge says about her main character. "I knew immediately that this was the story he was going to come out in. I'm really passionate about anti-bullying causes because of my family's own experience."
"Our military heroes inspired my story," Ronie Kendig says. "They're put into unbelievably stressful situations every day … and we live in a world where their actions are scrutinized unlike any other through our media. Accusations are quick, yet most who are watching through their televisions have no idea what these brave men and women endure and face every day."
Impact
Mike Dellosso hopes readers come away with the knowledge that "we can leave our mistakes or poor decisions or screw-ups in the past where they belong and make a conscious choice to continue on with life looking forward."
"I think humans are in a lot of denial about death," Rene Gutteridge puts in. "Most of us seem to convince ourselves it's not going to happen to us, even though death has a 100% success rate."
"We should make the most of every moment," Tom Pawlik adds, "because we don't know how many of them we have left."
"We are defined by the choices we make," Robin Parrish concludes. "A single good or bad choice can change everything."
MEET THE AUTHORS



Mike Dellosso
(
7 Hours: Rearview
)
Mike Dellosso is the author of five novels of suspense:
The Hunted
,
Scream
,
Darlington Woods
, and
Darkness Follows
and his latest,
Frantic
(Realms). Mike is also a newspaper columnist and feature writer for the ACFW's e-zine
Afictionado
.


Rene Gutteridge
(
7 Hours: Escapement
)
Rene Gutteridge is the author of 17 novels, including
Listen
, the Storm series, the Boo series, the Occupational Hazards series and the novelization of the movie
The Ultimate Gift
. Her latest is
Possession
(Tyndale House).


Robin Parrish
(
7 Hours: The Last Night of Alton Webber
)
As a journalist, Robin Parrish has worked for About.com, INFUZEmag.com, PopCultureGeek.com, b5media, SplashPress Media and many others. He is the author of six novels including
Relentless
,
Merciless
,
Offworld
,
Nightmare
, and
Vigilante
. His latest is the YA novel
Corridor
(StoneHouse Ink).


Ronie Kendig
(
7 Hours: Whole Pieces
)
Ronie Kendig is the author of seven novels, including
Dead Reckoning
,
The Discarded Heroes
,
Nightshade, Digitalis, and Wolfsbane
. Her latest is
Firethorn
(Barbour Books).


Tom Pawlik
(
7 Hours: Recollection
)
Tom Pawlik is the Christy Award–winning author of
Vanish
, which also won first place in the 2006 Christian Writers Guild Operation First Novel Contest. The sequel,
Valley of the Shadow
, was a Christy Award finalist. His latest novel is
Beckon
(Tyndale House).


Travis Thrasher
(
7 Hours: Teardrop
)
Travis Thrasher is the author of 18 critically acclaimed novels in a variety of genres, including
Isolation, Ghostwriter, Letters from War
(with Mark Schultz) and
Paper Angels
(with Jimmy Wayne). His latest novel is the third volume in the Solitary Tales series,
Temptation
(David C. Cook).


James Andrew Wilson
(
7 Hours: All of Our Dreams
)
James Andrew Wilson started writing his first novel when he was 16. He has directed and edited a handful of short films.
latest
fiction book trailer
christian fiction
authors