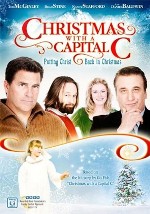 Christmas with a Capital C
(November 2011)
In the same tradition of family-friendly holiday films as
Deck The Halls, A Christmas Carol
and
It's A Wonderful Life,
Christmas with a Capital C
was awarded the Dove Foundation's "Family Seal of Approval" and is recommended for all ages. Christmas will never be Christmas again if Lawyer Mitch Bright (Daniel Baldwin) has his way. For the mayor, Dan Reed (Ted McGinley), and the townsfolk of Trapper Falls; they face their toughest challenge in a legal battle with one of their former native sons as they struggle to keep fifty years of tradition and the spiritual fabric of this joyous season alive. In the heat of this legal battle the town discovers the secret behind Mitch's return, Dan's wife Kristen (Nancy Stafford) and their daughter Makayla (Francesca Derosa) show the true meaning of Christmas by launching an inspired "Christmas with a Capitol C" campaign to keep the town together and remind them all that "with the arrival of God's Son, peace on earth and good will was given to all. Even to those whose heart seemed closed to Him."
Received 4 out of 5 Doves, awarded the Dove Foundations 'Family Seal of Approval' and recommended for ages 12 and over.
latest
fiction book trailer
christian fiction
authors