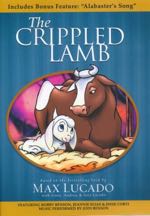 Crippled Lamb, Includes Bonus Feature
(January 2015)
Genres:
Children's
,
Comics & Animation
Max Lucado's classic children's book comes to home video in this special adaptation with full animation, original songs, and a cast including the voices of Jodi Benson (
The Little Mermaid
) and Robby Benson (
Beauty and the Beast, Ice Castles
).
Produced by award-winning TLC Entertainment. Approx. 60 minutes.
latest
fiction book trailer
christian fiction
authors