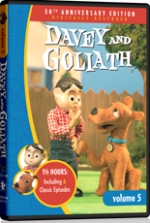 Davey and Goliath Vol. 5: 50th Anniversary Edition
(March 2011)
Genres:
Children's
,
Comics & Animation
Celebrate the 50th anniversary of
Davey and Goliath
by sharing this classic claymation cartoon with your child! Expertly restored for DVD, Davey and Goliath has delighted audiences around the world with the distinctive animation of
Gumby
creators Art Clokey and Ruth Clokey Goodell. Now, a new generation can be guided by these entertaining moral episodes starring young Davey and his talking dog, Goliath.
Volume 5 includes the previously lost episode "Down on the Farm," where Davey must decide between playing with his new friend Tom and tending to the vegetables in his garden. Also, in "Man of the House," Davey learns about responsibility when his parents leave him alone for the day to babysit his younger sister Sally. Other episodes in this volume are "The Waterfall," "Happy Landing," "Editor-In-Chief," and "Bully up a Tree."
latest
fiction book trailer
christian fiction
authors