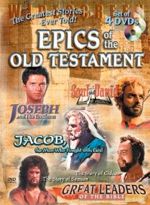 Epics of the Old Testament Collection
(August 2005)
Epics Of The Old Testament Collection is a box set containing four digitally re-mastered epic motion pictures, featuring some of the greatest stories from the Bible:
Great Leaders, Joseph and His Brethren, Saul and David,
and
Jacob, The Man Who Fought With God.
These biblical accounts tell of the struggles of the Israelites, the faithfulness to God, and the results of obedience and disobedience. As we follow these stories we find strengths and weaknesses of the characters. Also the accounts will show the blessings and curses that flow through these tales as well. The box set will also include the bonus short called Genesis.
See also:
Jacob, the Man Who Fought With God (1963)
Joseph and His Brethren (1962)
Great Leaders of the Bible (1973) - Gideon and Samson
Saul and David (1965)
latest
fiction book trailer
christian fiction
authors