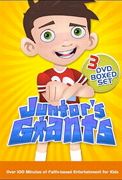 Junior's Giants: Three DVD Set
(August 2012)
Genres:
Children's
,
Comics & Animation
Spark imagination and faith with
Junior's Giants,
a humorous and uplifting series that is entertaining and great to watch as a family. Combining imaginative storytelling and unique characters to introduce biblical themes to young audiences, this three DVD set follows the spiky-haired Junior Anderson as he learns moral lessons and conquers his giants with the help of family, friends, prayer, and Scripture.
The series includes Junior's entertaining and educational battles with his temper (Anger's Everywhere), his jealousy (Envy Thou Not), and his dishonesty (Nothing but the Truth). Each DVD is also available separately.
latest
fiction book trailer
christian fiction
authors