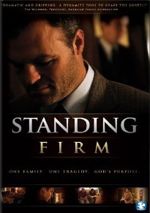 Standing Firm
(August 2010)
David, a widower, is working himself to death. Late nights doing paperwork and running on fumes is normal. Bills are piling up by the week, and foreclosure looms on the horizon. Blaming God for his wife's death, he ends his relationship with the church. His son, Steven, the remaining Christian of the household, watches his father with great concern. With help from his grandpa and best friend Maggie, Steven reaches out to his father in any way he can.
Despite his grieving and worsening financial problems, David begins seeking an answer to the question that's haunted him since his wife's death -- WHY?
Standing Firm
is a story of suffering, God's purpose in it, and being joyful despite it.
"And we know that all things work together for good to them that love God, to them who are the called according to his purpose."
(Romans 8:28)
Read our interview with the director:
Kyle Prohaska: "The Gospel Wins"
latest
fiction book trailer
christian fiction
authors