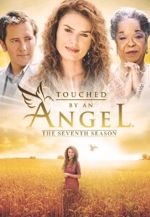 Touched By an Angel: The Seventh Season
(April 2013)
Genres:
Contemporary
,
Speculative
A trio of angels Monica (
Roma Downey
), Tess (
Della Reese
), and Andrew (
John Dye
) are dispatched from heaven with a special mission to inspire people facing sometimes unseen crossroads in their lives. While the angels may not bring solutions to every problem, they always deliver a message of hope.
The seventh season (2000-2001) included guest stars Bill and Gloria Gaither, Delta Burke, Randy Travis, Faye Dunaway, John Schneider, Rue McClanahan, Ray Walston, Richard Chamberlain, Alexis Cruz, Marla Gibbs, Robert Loggia, Kathy Mattea, Tess Harper, Bonnie Franklin, Bonnie Bartlett, Robert Prosky, Christopher Marquette, Mel Harris, Isaiah Washington, Scott Baio, Arye Gross, Eve Gordon, Amanda Fuller, Patti LuPone, Paul Robert Langdon, Harry Hamlin, J. Grant Albrecht, Lee Horsley , Shannon Cochran, Tony Denman, Ryan Merriman, Tom Irwin, Christine Healy, Zachary Ty Bryan, Brian Gross, Adam Hendershott, Plus One, Bill Cobbs, Joel Grey, Valerie Bertinelli, Jake Dinwiddie, James Eckhouse, and Mandy Patinkin.
The series on DVD:
Touched by an Angel: The Complete First Season
Touched by an Angel: The Complete Second Season
Touched by an Angel: The Third Season, Vol. 1
Touched by an Angel: The Third Season, Vol. 2
Touched by an Angel: The Fourth Season, Vol. 1
Touched by an Angel: The Fourth Season, Vol. 2
Touched By an Angel: The Fifth Season
Touched By an Angel: The Sixth Season
Touched By an Angel: The Seventh Season
Season Eight (still to come)
Season Nine (still to come)
Collected Editions:
Touched by an Angel Inspiration Collection: Faith
Touched by an Angel Inspiration Collection: Hope
Touched by an Angel Inspiration Collection: Love
Touched by an Angel Inspiration Collection: Holiday
latest
fiction book trailer
christian fiction
authors