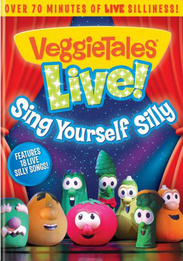 First-Ever VeggieTales Live DVD Based on Successful Touring Stage Show
(June 9, 2011)
FRANKLIN, TN (March 30, 2011) – Big Idea Entertainment, the leading faith-based studio and producer of children's and family programming, characters and brands, announced today they will release their first-ever live show DVD entitled VeggieTales® Live! Sing Yourself Silly. This all-new DVD will debut on June 4 and June 7, 2011 in Christian and general market stores respectively.
The DVD, featuring an important lesson in sharing, captures all the fun of the live tour with energetic dancers, loads of bubbles, confetti, big bouncy characters and 18 of the most classic and popular VeggieTales silly songs performed live on a stage, including "His Cheeseburger," "Love My Lips!," and "The Hairbrush Song," plus a few hits from the 80's that both parents and kids will enjoy! There are also several fun and family-friendly bonus features, such as a peek behind the curtain on "Larry's Backstage Pass."
"After our successful Live! show tour last fall, we wanted to bring the VeggieTales' high-energy and hilarious performance into households everywhere across the country," said Leslie Ferrell, General Manager of Big Idea Entertainment. "We're happy to provide this fun DVD full of music that's perfect for the entire family."
DVD Synopsis
Bob, Larry and the whole crew are taking to the stage with the silliest Silly Song Countdown ever! This high energy song and dance spectacular takes silliness to a whole new level! But sometimes silliness just isn't enough! Archibald Asparagus prefers songs that have lessons, Mr. Lunt wants to sing about food, and Jimmy and Jerry are stuck in the 80's! But there's only so much time...will the VeggieTales crew learn the importance of sharing so that the show can go on and everyone will be able to sing themselves silly?
Bonus Features:
• Larry's Backstage Pass – Behind the scenes of VeggieTales Live!
• VeggieTales Trivia Game
• Discussion Guide
• Silly Song Sing-Alongs (4 songs)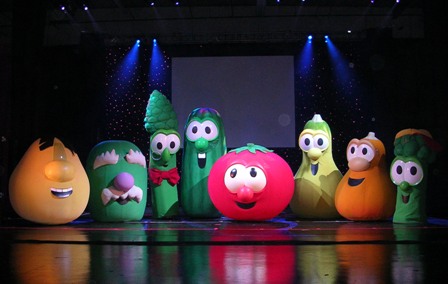 Includes The Songs:
• "VeggieTales Theme Song"
• "The Water Buffalo Song"
• "Big Things Too"
• "Gourds Just Wanna Have Fun"
• "Song of the Cebu"
• "Dance of the Cucumber"
• "God is Bigger"
• "His Cheeseburger"
• "Love My Lips!"
• "The Pirates Who Don't Do Anything"
• "Do the Moo, Shoo"
• "Rumor Weed"
• "Endangered Love" (Barbara Manatee)
• "Bellybutton"
• "Footloose"
• "The Hairbrush Song"
• "I Can Be Your Friend"
• "VeggieTales Theme Song (Reprise)"
latest
fiction book trailer
christian fiction
authors