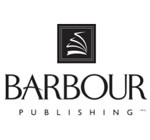 Four Brand‐New Destination Romances from Barbour Publishing
(July 1, 2012)
Uhrichsville, OH – Contemporary and historical romance fans rejoice with the release of four brand‐new destination romances from Barbour Publishing. Scheduled for release July 2012 through October 2012, each novel is a destination read that provides a relaxing escape.
A Bride Opens Shop in El Dorado, California by Keli Gwyn
(July 2012)
Elenora Watkins is determined to provide for herself and her daughter without relying on anyone else. Can she run a successful business after falling for the competition? Miles Rutledge finds himself willing to do anything to keep Elenora in town. But can he win her heart while putting her out of business?
A California native, Keli Gwyn lives in a Gold Rush‐era town in the Sierra Foothills with her husband and two skittish kitties.
A Wedding Homerun in Loveland, Ohio by Cathy Liggett
(August 2012)
Megan's a take‐charge single mom of a handicapped child. When she's forced to work with Mac, a cocky superstar pitcher recovering from an injury, she dislikes him on sight. Until she loves him. But will she trust God when the past throws a curveball in their game of love?
Cathy Liggett is a wife, mother, author, and editor living in southwest Ohio with her husband of over thirty years and two grown children.
A Bride's Rogue in Roma, Texas by Darlene Franklin
(September 2012)
Inheriting a steamboat from a father she's never met leaves Blanche Lamar in a quandary. Add to that a likeable rogue, Ike Gallagher, and the water muddies even more. Can she and Ike successfully navigate through love, or will they abandon ship?
Award‐winning author and speaker Darlene Franklin recently returned to cowboy country — Oklahoma.
A Wedding Renewal in Sweetwater, Texas by Kim O'Brien
(October 2012)
When carpooling mom Sylvia realizes something is missing in her marriage, she decides to get to work. After her husband, Wilson, fails to get the message, she conspires with a friend to start a Proverbs 31 makeover. Can she and Wilson rekindle the romance, or is it too little too late?
Kim O'Brien holds a masters of fine arts in writing from Sarah Lawrence College in New York and is an active member of Loft church. She lives in The Woodlands, Texas, with her husband, two daughters, and pets.
latest
fiction book trailer
christian fiction
authors