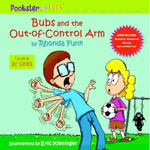 Pookster: Scripture for All Ages
(April 3, 2012)
Mother, musician and marketer Rhonda Funk never expected to add "author" to her list of titles, but after she felt God wanted her to write, she created
Pookster and Bubs
, a series of books inspired by her son and daughter.
Each book in the series shows the title characters in a funny situation leading to a serious Biblical lesson. The newest book in the series,
Bubs and the Out of Control Arm
(Deep River), is a lesson in self-control.
"I think the biggest takeaway in the Pookster and Bubs series is that kids can and should apply Scripture to their lives just as adults do," Funk said. "That is why I created this series. It shows parents and children how important Scripture is at all ages."
Each book, illustrated by Eric Kieninger, also comes with an audiobook, featuring the voices of the real life "Pookster" and "Bubs."
latest
fiction book trailer
christian fiction
authors