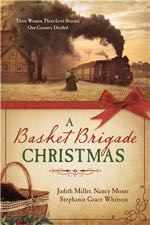 A Basket Brigade Christmas
(September 2015)
Genres:
Christmas
,
Historical
,
Romance
|
Publisher: Barbour Books
|
ISBN: 978-1630584504
Not even the Civil War can smother the spirit of Christmas, especially in the town of Decatur, Illinois.
The ladies of the Basket Brigade board trains to minister to Union soldiers: offering fried chicken, pickled peaches, pound cake, and other dainties to men who haven't eaten a home-cooked meal since enlisting. Sarah, Lucy, and Zona are three compassionate members of the brigade, who care for wounded heroes — and find love along the way.
latest
fiction book trailer
christian fiction
authors