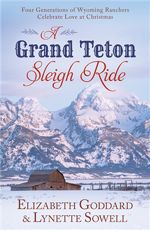 A Grand Teton Sleigh Ride
(September 2014)
Genres:
Christmas
,
Romance
|
Publisher: Barbour Books
|
ISBN: 9781628368109
Wyoming's spectacular mountains have drawn many — from trappers to ranchers to skiing enthusiasts. The Covington family have called Wyoming home for generations.
Rough, bristly rancher Zebulon sets his sights on eastern lady Belle Murray. Forward-thinking Emily would rather stay a dog musher than become a bride. Outfitter Sam wants to make his name in Wyoming — not say "I do." Hayley's quest for her father's approval goes sour when she takes an interest in a local ski bum. Will four festive sleigh rides rein in romance?
latest
fiction book trailer
christian fiction
authors