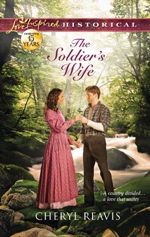 The Soldier's Wife (Love Inspired Historical)
(August 2012)
Genres:
Historical
,
Romance
|
Publisher: Love Inspired
|
ISBN: 978-0373829286
Former Union soldier Jeremiah "Jack" Murphy should never have given his word to a dying man, especially a Rebel. But now he feels honor-bound to carry the message to the man's young bride. Besides, with false charges following him, Jack needs somewhere to turn. After he fulfills his promise, perhaps the North Carolina mountains can give this weary soldier some shelter. Yet when he meets beautiful widow Sayer Garth, leaving is the last thing on Jack's mind. Sayer, and her young sisters-in-law, need help that Jack is more than willing to provide. If only he could be certain that his presence --and his secrets-- won't put them all at risk ...
latest
fiction book trailer
christian fiction
authors