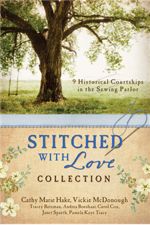 The Stitched with Love Romance Collection
(February 2013)
Genres:
Historical
,
Romance
|
Publisher: Barbour Books
|
ISBN: 9781620291801
Treasure this keepsake collection of nine historical romances.
Faced with finding the right fit in life and love, nine young women seek the courage to stitch together romance. But when unexpected obstacles abound, will love unravel before their eyes?
latest
fiction book trailer
christian fiction
authors