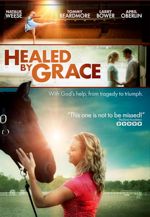 Movie: Dancer Overcomes Tragedy to Be 'Healed by Grace'
(October 2012)
(Rock Rapids, IA) - A dancer overcomes tragedy through equine therapy in
Healed by Grace,
a new family movie from David Matthew Weese available on DVD from Bridgestone Multimedia Group.
When a horrific accident shatters her dreams of dancing at a national competition, Riley Adams (Natalie Weese) clings to her faith, refusing to let rival dance student Alea's merciless teasing for Riley's Christian beliefs stand in her way of recovering in time for the contest. To regain mobility, the college student turns to equine therapy, developing a special bond with a beautiful mare named Grace and discovering an unexpected romance in the process.
From the excitement of elite dance competition to the heartwarming horse ranch where Riley rediscovers her will to succeed, Healed By Grace is a sweet reminder that God's grace can appear in the most unexpected places.
Writer and director David Matthew Weese's third faith-based film for Blended Planet Pictures and Parables.TV, Healed by Grace marks his daughter's screen debut. Natalie Weese also performed the film's songs and helped write and produce Riley's story, which the Dove Foundation awarded its highest honor of five stars and described as "not to be missed."
Related: Healed by Grace
latest
fiction book trailer
christian fiction
authors