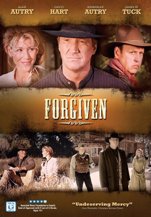 Forgiven
(April 2011)
Forgiven
is an inspirational story in the tradition of
High Plains Drifter
and
Pale Rider
with a Faith-based message. It's 1878 and Jake Kincaid (Alan Autry from "In The Heat Of The Night") has just been released from prison for a crime he didn't commit. His heart is seeking vengeance on those responsible for landing him in jail, but he's also very interested in finding the gold he was accused of stealing. In his quest, he finds himself in the small town of Fairplay, California where Kincaid learns that love is far more powerful than hate and that redemption is more precious than gold.
Forgiven
is Alan Autry's directorial debut and a western the whole family can enjoy.
Received 4 out of 5 Doves from The Dove Foundation. Dove Family Approved & recommended for ages 12 and above.
Click here to read an interview with the star: Alan Autry: A New Life
latest
fiction book trailer
christian fiction
authors