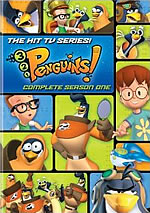 The Complete First Season of Hit TV Series 3-2-1 Penguins! Available on DVD
(August 29, 2012)
FRANKLIN, TN (August 27, 2012) -- Your favorite flightless space birds are back and on DVD! Big Idea Entertainment, a leading studio and producer of children's and family programming, characters and brands, announced today they will release the complete first season of popular television series
3-2-1 Penguins!
® on DVD September 15 and September 18, 2012, in Christian and general market stores respectively.
3-2-1 Penguins!
—Complete Season One includes all 13 episodes from the first season of the top-rated series that aired on NBC. Fans and families will be able to revel in the adventures of Space Penguin Pals Zidgel, Fidgel, Midgel and Kevin as they engage their young friends Michelle and Jason to help them solve intergalactic crises with faith and fun! In addition to the episodes, the DVD will feature bonus content including "How to Draw Midgel," "Space Academy: Speak Like An Alien," "Midgel's Cool Blue Space Fuel," and the "Make Your Own Planet" activity.
3-2-1 Penguins!
—Complete Season One provides close to five hours of intergalactic entertainment!
"This is the first time families can enjoy the episodes from season one back-to-back," said Greg Fritz, SVP Sales & Marketing of Big Idea Entertainment. "We look forward to sharing the valuable character lessons each 22-minute episode brings to fans and new audiences, and we feel the brand-new added bonus features will help make the DVD package and viewing experience even more 'out-of-this-world.'"
3-2-1 Penguins!
—Complete Season One will be supported by national print, online and radio advertising, as well as through social media promotions on Facebook, Twitter, Pinterest and YouTube.
About 3-2-1 Penguins!—Complete Season One
• Not Rated-Four Hours and 46 Minutes-Color-5.1 Surround Sound-English & Spanish Subtitles Close-Captioned
• Full Screen & Widescreen Versions
• DVD UPC Codes CBA: 820413126698 $19.99 and GM: 037117043538 $19.97
About Big Idea Entertainment
Big Idea Entertainment is celebrating 20 years as a leading studio and producer of children's and family programming, characters and brands. Big Idea's best-selling series VeggieTales® is a one of the most recognized brands in the US with moms of pre-schoolers*. Since 1993, VeggieTales® has sold 60+ million videos, 13 million books and more than 7 million CDs. VeggieTales® and Big Idea's property, 3-2-1 Penguins!®, enjoyed four seasons as top-rated series on NBC Saturday mornings, Telemundo and ION TV. The studio's two theatrical releases, Lionsgate's Jonah-A VeggieTales Movie® (2002), and Universal Pictures' The Pirates Who Don't Do Anything®-A VeggieTales Movie® (2008), are distinguished among the most successful faith-based films of all time. Big Idea also maintains an extensive presence in publishing, licensing and live entertainment arenas. For more information on Big Idea, visit: www.VeggieTales.com
latest
fiction book trailer
christian fiction
authors