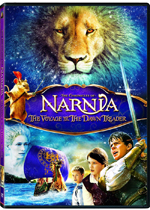 Magical Narnia: What Comes Next?
(June 20, 2011)
Now that
Voyage of the Dawn Treader
is on DVD, speculation abounds on which Narnia book will be adapted next. Walden Media's Micheal Flaherty has all but officially announced
The Magician's Nephew
as their pick. He recently told
Christianity Today
, "We just think the origin tale of
The Magician's Nephew
is a great one, and it brings back the characters that have proven to be the most popular—a lot of Aslan and the White Witch." Does this mean Tilda Swinton will reprise her role as the Ice Queen? The actress has seemed open to the idea in interviews, so we can hope.
See also:
Narnia's Newest Editions
Voyage of the Dawn Treader: A Strange, Beautiful New Narnia
latest
fiction book trailer
christian fiction
authors